0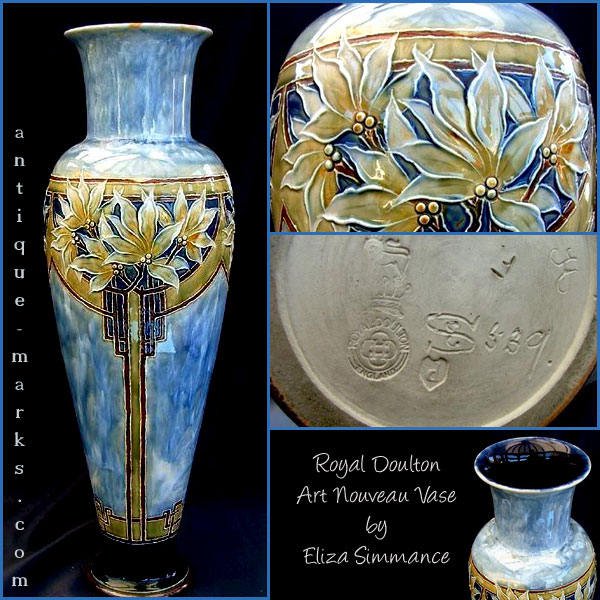 Doulton Marks
Royal Doulton Marks, base marks, pattern codes and trade marks. The Doulton marks are many and varied but most follow the same theme. Dating Royal Doulton products from their Doulton marks means you sometimes have to check very carefully. Factors other than the Doulton mark can help in more accurate dating, particularly pattern names and numbers and date codes or artists monograms. Between 1878 and 1882, Henry and James Doulton acquired a major interest in the Pinder Bourne factory in ...
Continue Reading
Peggy Davies
Peggy Davies was one of Royal Doulton's most highly regarded figure modellers. Margaret (Peggy) Davies was born in Burslem only a stones throw from the Royal Doulton Burslem works. She suffered from tuberculosis which she contracted when she was a young girl and was forced to spend much of her young life in hospitals. As a result she fell behind with her schoolwork but luckily a teacher spotted her artistic talent and was happy to let her concentrate on this instead of her more academic ...
Continue Reading
Doulton Burslem Cups c1902
A Set of Four Matching Royal Doulton Burslem Cups dating to c1902. by Ann Marie Reagle (Hillsborough, NJ USA) Photos show the pretty pattern on my twin-handled Royal Doulton Burslem cups & the Doulton base marks I purchased four twin-handled Royal Doulton cups that date to Burslem between 1902 and 1922 according to the Doulton makers stamp on the bottom. However, I cannot find the pattern anywhere. The cups are decorated in black, white and yellow stripes with a central panel ...
Continue Reading
Doulton Burslem Vase with Frogs Mice & Birds
I have an interesting Doulton Burslem china vase with Frogs Mice & Birds, I would like to share. by Peter Roberts (Australia) Photo of Doulton Burslem Vase showing frogs The vase is stamped on the base Doulton Burslem with the coronet on top and England underneath which I have been able to find out dates it between 1891 -1902. The number 356 is also inscribed on the base. There are no other marks. Size is 17cm in height and condition is very good with no damage. I have been search...
Continue Reading
Antique Doulton Burslem Cup and Saucer
Looking for more information on this lovely delicate Doulton Burslem cup & saucer Photo of the design of my Doulton Burslem Cup and Saucer by Lisa (Shirley, NY) Received this Doulton Burslem Cup and Saucer from my Great Aunt. I have no idea of it's value if any. All I know is she said it is very old. It is also very pretty and in pretty close to perfect condition. I looked up the mark on the bottom of the cup and found it to be a Doulton Burslem. Photos of the manufacturers Marks ...
Continue Reading
Delicate Doulton Burslem Tea Cup and Saucer
I love collecting tea cups and came across this lovely Doulton Burslem tea cup and saucer by Viviana (Portland, OR USA) Both the cup and saucer are marked in green: Doulton Burslem England - Rd.No: 258448 and then handwritten in black glaze to the side: HB 2815 C7830. Photos show my Doulton Burslem cup and saucer side view and a close up of the decoration Above photos show the Doulton Burslem marks under the cup and the Doulton marks under the saucer On the saucer, but not ...
Continue Reading
Pair of Doulton Burslem Jugs
Looking for Information on Grandmothers Pair of Doulton Burslem Jugs. by Steve (West Yorkshire, England) Photo shows one of my Doulton Burslem Jugs These Doulton Burslem Jugs are my grandmothers and I am looking for any information regarding their origins, designers or date of manufacture. We have 2 jugs with matching paintwork decoration but one stands taller than the other. There are 'Doulton Burslem England' marks and the stamp just has the coronet on top of the badge. Any help ...
Continue Reading