Collecting Spanish Emporion Coins
A look at the Spanish Emporion Coin 450-425 BC. The Spanish Emporion coins are found with a great variation in weight, ranging from 0.65 to 0.05 grams. The majority fall below 0.30 grams, with only a handful at heavier weights. There are too few known, however, to clearly establish whether there were different denominations, or whether there was a long reduction in weight of one denomination. None of the references distinguish coins of differing weights, but merely identify these by type. ...
Continue Reading
Rare Gold Danish Christian IV
A quick look at a rare square gold Danish Christian IV and the King of Denmark Gold Danish Christian IV (1588-1648) - 6-Daler, 1604, 12.95g, CHRISTIANVS.IIII. D.G.DA Obverse ... Crowned and armoured bust right within three lines of dots with cross in each angle. Reverse ... VI. .DAL. 1604 in three lines in a dotted circle within a dotted square, trefoil in each angle. H 11A; Schou obverse 2, reverse 3 var; F 45 Bold very fine and extremely rare gold coin. ex Schlessinger (Berlin) ...
Continue Reading
The Rare Commodus Medallion
Coin Collecting Reviews - The Commodus Medallion. Obverse ... Commodus (AD 177-192), AE Medallion, AD 190-191, M COMMODVS ANTONINVS PIVS FELIX AVG BRIT, laureate and bearded bust of Commodus right, wearing paludamentum and cuirass, border of dots, rev COS VI (in exergue). Reverse ... Commodus standing right, wearing paludamentum and cuirass, holding parazonium and leaning on spear. Before him, Africa reclining left, wearing peplum and elephants skin head-dress, placing her right hand on ...
Continue Reading
0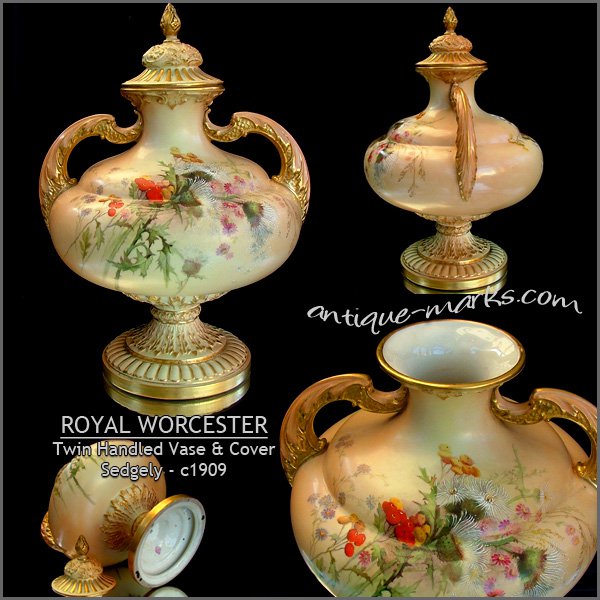 Royal Worcester Marks
Dates, Year Cyphers & Royal Worcester Marks on pottery, porcelain and Worcester figures. Royal Worcester Marks were first placed on pottery and porcelain in 1862 but it was 1867 before it became common place. Earlier Worcester Marks are rarely seen, and typically the crescent mark dates pieces to the Dr Wall period before 1783. But pieces bearing the crescent mark are rare and usually the provence of specialist collectors. In the late 1700s Worcester were among the first to use ...
Continue Reading
Derby Porcelain Gallery
A varied selection of Derby Porcelain products both antique and modern By Derby artists and designers that exemplify the Derby style. Porcelain plates, figures and vases that demonstrate the superb quality of Royal Crown Derby products. Not all Derby products are as collectible as the items featured below and most are well within range of any porcelain collectors budget. The products we feature here are simply used to demonstrate what you could find. If you search hard enough. William ...
Continue Reading
0

Antiques Collection: Nailsea Spatter Glass Basket
From the Antique Marks Collection we have a beautiful 19thC. Nailsea spatter glass basket in multi-coloured glass with clear branch handle. Part of a range of highly collectable glass items which are collectively often simply referred to as Nailsea glass
Continue Reading
Japanese Chocolate Pot – Kutani Makers Mark?
I know it is not worth a lot of money and you can find a lot of Japanese Chocolate Pot items. by Deborah (Montana USA) Photo to right shows our Japanese Kutani Chocolate Pot, perhaps? I paid $65.00 at an Estate Sale. But it is odd the mark on the bottom of each piece that intriques me. It looks like a stamped mark, but not all stamps are exactly alike. Some lines are wider, longer or shorter. I was told a couple of different things, which makes me wonder even more about the history ...
Continue Reading