Collecting Antique Samplers
Highly Collectable Antique Samplers can be a very wise investment. A sampler is an embroidered panel of fabric sewn as a reference or a to demonstrate a range of sewing skills and different stitches. By the 18thC most antique samplers were sewn by young children, following patterns from books. They typically incorporate letters, numbers, a short poem or motto, the name and age of the child and the date. The word sampler, comes from the Latin word exemplum, meaning an example to be ...
Continue Reading
0

Antique KPM Berlin Porcelain to Collect
KPM (Berlin) porcelain is quite beautiful and very collectible. Porcelain collectors should always be on the look out for KPM porcelain figures, vases and centerpieces. They are a very good investment, particularly those produced by the Wegely factory and marked with the initial W and a combination of numbers. Sought after pieces by 19th century artists and designers Karl Friedrich Schinkel, Christian Daniel Rauch and Johann Gottfried Schadow are much in demand.
Continue Reading
The Rare Brasher Doubloon
Coin Collecting Review - The Rare Brasher Doubloon Ephraim Brasher was a noted goldsmith and silversmith who was highly regarded for his skills, and well known for his hallmark, which he stamped on his own coins and the coinage sent to him for assay. In 1787 Brasher made a small number of doubloons and other coins for general circulation. Doubloons because they were the coin of the realm and at the time, America had no established currency standard. There were mints operating in some ...
Continue Reading
Fairyland Lustre
Wedgwood's Fairyland Lustre Ware and those wonderful Daisy Makeig-Jones designs. Daisy Makeig-Jones must surely have had fairies living at the bottom of her garden. Where else could she have found the inspiration for the most magical of ceramic fairy wonderlands created for Wedgwood Fairyland Lustre? The pieces pictured here are products of Daisy's vivid imagination. One of seven children, Susannah Margaretta 'Daisy' Makeig-Jones was born in 1881 in a small mining village near Rotherham, ...
Continue Reading
Derby Porcelain Gallery
A varied selection of Derby Porcelain products both antique and modern By Derby artists and designers that exemplify the Derby style. Porcelain plates, figures and vases that demonstrate the superb quality of Royal Crown Derby products. Not all Derby products are as collectible as the items featured below and most are well within range of any porcelain collectors budget. The products we feature here are simply used to demonstrate what you could find. If you search hard enough. William ...
Continue Reading
0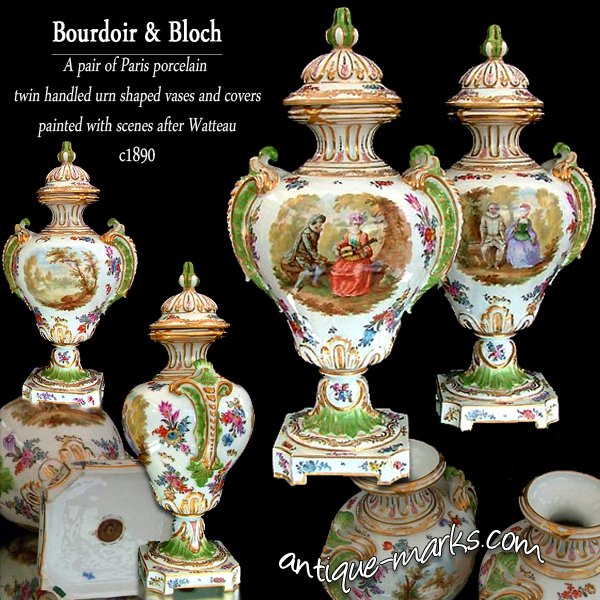 Paris Porcelain Vases by Bourdoir and Bloch
Paris Porcelain is to France what Dresden Porcelain is to Germany. Porcelain by a variety of makers from a region rather than one maker. In this case Porcelain de Paris is also as good if not sometimes better than Dresden, Meissen or Sevres porcelain and is certainly a collectible to look out for
Continue Reading
Antique Bracket Clocks
Antique Bracket Clocks are regarded as the epitome of English clock making Bracket clocks are not only beautiful to look at but they also have the added bonus of beautifully engraved script on the back of the movement. Antique Bracket clocks are spring-driven pendulum clocks, most often housed in a rectangular case with a carrying handle on top. Although the earliest clocks were made in Holland, they reached the peak of their development in England. The wall bracket on which bracket ...
Continue Reading
Antique Wall Clocks
Collectable Antique Wall Clocks can be either Spring driven or Weight Driven Antique wall clocks can be found in many forms almost all are collectable depending on condition. The basic difference between them is they are either spring-driven clocks, which mostly run for eight days, or weight-driven clocks which run for 30 hours. They range from the plain Edwardian school clocks to elaborate Ormolu mounted French Cartel clocks. Antique Wall Clocks of the Victorian and Edwardian periods ...
Continue Reading