0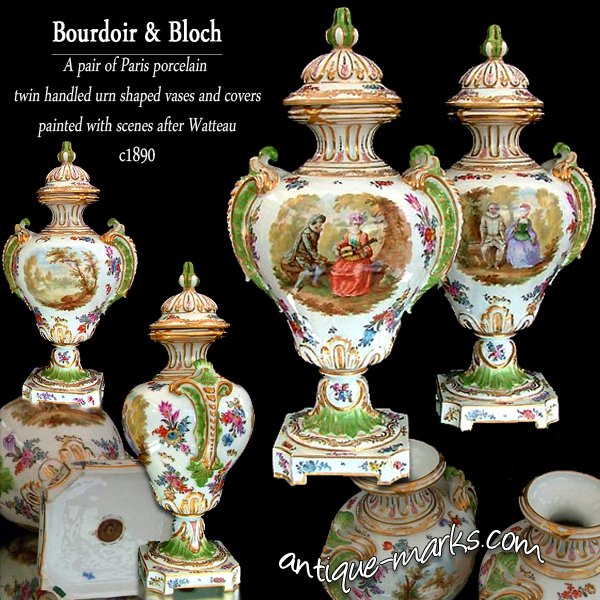 Paris Porcelain Vases by Bourdoir and Bloch
Paris Porcelain is to France what Dresden Porcelain is to Germany. Porcelain by a variety of makers from a region rather than one maker. In this case Porcelain de Paris is also as good if not sometimes better than Dresden, Meissen or Sevres porcelain and is certainly a collectible to look out for
Continue Reading
Florence Barlow
Royal Doultons Florence Barlow is one of Doultons most popular and most collectable artists. Florence was born in 1856 at Hadlam, Hertfordshire, England. Florence Barlow was employed at the Doulton Lambeth Art Studio from 1873, producing her renowned bird, animal and floral studies for nearly forty years. Florence and her sister Hannah worked together and the two women were prominent in the field of decorative arts long before Clarice Cliff and Susie Cooper. Yet they are only now being ...
Continue Reading
Leslie Harradine
Doultons Leslie Harradine was a supremely talented ceramic artist and potter. Born Arthur (Leslie) Harradine (1887-1965), Leslie was one of Royal Doulton's premier and most prolific modellers producing superb figures from 1920 until the mid 1950s. Leslie Harradine started as an apprentice at Doultons Lambeth factory in London in 1902. He worked under George Tinworth and studied part-time at the Camberwell School of Arts. He went on to qualify and work in the Royal Doulton design department. ...
Continue Reading
Antique Terms (XYZ)
An Antique Marks Glossary for Antique Terms beginning with X, Y or Z Below you will find antique terms for words beginning with X, Y and Z including meanings and definitions that cover everything from x-chair to zsolnay and zeotrope. x-chair (furniture - medieval chair) A medieval x-framed chair popular in 15thC. Italy. and in 18thC. Britain by Sheraton. Sometimes called a savonarola. Antique Terms beginning with Y yao (chinese - ware) A chinese word meaning 'ware'. yataghan (milit...
Continue Reading
Sevres Marks
A guide to the Sevres Marks including the Double L and Double C marks The Sevres double L mark was introduced in 1751 and in 1753 year letters were added to all Sevres marks The Sevres Porcelain year cyphers began with an 'A' in 1753 and continued until 'Z' In 1777 these then moved to a 'AA' in 1778 and continued to 'PP' in 1793. After 1793 the double L mark was replaced by the RF mark, which stood for République Française. This ocurred as the revolutionaries had overthrown the ...
Continue Reading
Sevres Porcelain
Sevres Porcelain - The company history, its products, its double L mark and the main periods. Sevres porcelain history starts in 1738 when the Marquis Orry de Fulvy, brother of the Minister of Finance, obtained from the French king Louis XV a licence to manufacture porcelain in the Saxon manner At that time the brothers Dubois, who were arcanists that fled from Chantilly, had already experimented to produce porcelain at the Chateau de Vincennes. Together with Gravant, they succeeded in ...
Continue Reading
Naples & Capodimonte Porcelain
The History of the Naples Porcelain company and how Capodimonte porcelain fits in. To trace the history of Naples Porcelain you have to look at the origin of Capodimonte Porcelain, the wares and the crowned N mark and periods. And; how production of Capodimonte Porcelain Figurines and floral displays dates back to the early eighteenth century and to the Kingdom of Naples. The father of Capodimonte porcelain is considered to be Charles of Bourbon (1716-1788) Son of Philip V of Spain and ...
Continue Reading
Doultons Hannah Barlow
Hannah Barlow is one of Royal Doultons most popular and most collectable artists. Hannah Barlow was one of two Barlow Sisters employed at Doultons London factory. An expert tube liner, Hannah Barlow's pieces are amomg the most sought after of all Doulton artist designs. Hannah produced her renowned animal designs and her sister Florence produced floral studies for nearly forty years. The two women were prominent in the field of decorative arts long before Clarice Cliff or Susie Cooper, ...
Continue Reading
Tin Glaze Ceramics
The History of Tin Glazed Pottery Ceramics. The manufacture and examples. Tin glaze ceramics, normally earthenware, known also as delftware or delft, was the first white pottery manufactured in England. Tin glaze is a clear lead glaze to which tin-oxide is added in a proportion of approximately 1:3. Tin Glaze Ceramics were very popular because they resembled Chinese porcelain. The new Chinese porcelain was very expensive and only the wealthy could afford to buy. The usual characterist...
Continue Reading
Slipware Ceramics
Collecting Antique Staffordshire Slipware Ceramics ... About Staffordshire trailed slip, the history, manufacture and examples. When collecting slipware ceramics, it is important to have knowledge of the history and the challenges the medium presents to appreciate its value and artistry. Slip ware ceramics, are created by dipping the object in pale slip then trailing other colours of slip over the top in intricate patterns. Thomas Toft, who is known to have worked between 1660 and 1680, ...
Continue Reading