Your Best Reference for Antique Marks. Including pottery marks, porcelain marks and everything antique or collectable.
Over 10,000 antique marks, china marks and trademarks with superb quality images to illustrate examples of antique manufacturers products.
Antique marks is your easy to use online reference for everything antique.
With detailed information on all kinds of antique china, pottery marks, porcelain marks, antiques and collectables. Antique Marks includes antique terms, a full antiques glossary and detailed history on well known companies and artist biographies.  As well as pottery & porcelain companies and information on caring for antique rugs, carpets, silver and glass.
But best of all … Its all FREE, and at your fingertips 24/7.
The site includes graphic illustrations of over 100 manufacturers products to help identify & date your pieces and over 10,000 makers marks and a full antiques glossary with a full easy to use search facility. Antique-marks.com is ideal for the collector to check or verify attributions listed in online auction sales.
Antiques News & Latest Updates …
Rookwood Pottery – An American Ceramic Well Worth Collecting
A Rookwood piece by Japanese artist Kitaro Shirayamadani sold for $198,000 in 1991. Other exceptional pieces by great artists like Artus Van Briggle, Ed Diers, Sara Sax and Fred Rothenbusch are still waiting for pottery collectors who are looking to invest for the long term.
Read More
1

Antique Furniture Styles. Choosing the Right Antiques for Your Home
The period and style of antique furniture you choose to decorate your home with can say a lot about your own style and taste. So, how do you make sure what you choose is the right kind of antique furniture, that it's a sound investment in both taste and style that fits your budget but won't stop being fashionable
Read More
Collecting Moorcroft Pottery in 2016
In 2016 collecting Moorcroft Pottery remains enormously popular with salerooms seeing quite a broad range of buyers still bidding at auction. With early Moorcroft patterns in the Art Nouveau or Arts & Crafts styles probably the most sought after and some collectors seeking advertising wares or patterns made exclusively for export
Read More
Collectible Anchor Hocking Fire King Glass
Philbe and Jadeite designs are the most collectible forms of Anchor Hocking Fire King Glass. It was manufactured from the early 1940's to the 1970's by the Anchor Hocking company, and this affordable collectible glassware can be found at thrift shops, flea markets, and yard sales for very reasonable prices. Marks on pieces may read Fire-King in block letters or in script, or may include an anchor logo. But watch out for modern forgeries...
Read More
1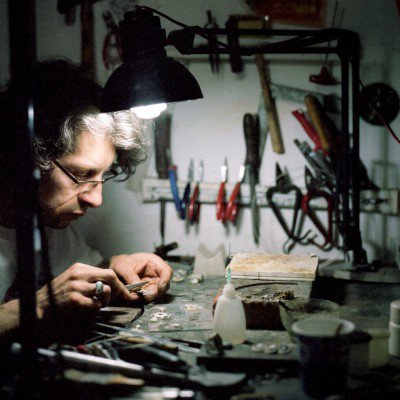 Spotting Antique Fakes and Forgeries
The Golden Rule when buying antiques, is always to ask the seller and to make sure they answer positively one way or the other. If the answer is maybe, could be or it might be an original, then think twice before you buy. Antique fakes are better now than ever and the antique collector really does need to be wary.
Read More
Fake Royal Worcester Marks
Good quality porcelain is often copied and fake Royal Worcester marks are quite common. The artwork on this nice pair of posy vases looks the part and the Stinton signature could get you very excited if you came across them at auction. But are these marks genuine Royal Worcester marks. Only good research and an eye for detail can make sure you don't pay top dollar for inferior copies or outright fakes.
Read More
Shelley Marks & Collectible Shelley China
In 1910 Shelley marks were officially adopted by Wileman & Co of Foley Potteries and Foley China Works. Highly sought after Mabel Lucie Attwell collectibles bear the mark as do the wonderful Art Deco styled Harmony tea wares designed by Eric Slater and produced in the early 1930's. Shelley is popular among ceramics collectors and discovering you own a Shelley teaset or a Mabel Lucie Attwell piece could add nicely to your bank balance.
Read More
Collecting Studio Pottery: The Potters Marks & a little history
Studio pottery pieces by Bernard Leach and the potters he taught can command high prices. Spotting a pot by Leach takes a little learning as does recognising any of the good studio pottery that you can find in all sorts of places including boot fairs & yard sales as well as antiques fairs. Knowing what the potter was trying to achieve will help the collector find those priceless little nuggets as will knowing the pottery marks to look out for and building a good source of reference.
Read More
Antiques Collection: Gerbing & Stephan Majolica Vase c1890
Beginning as Schiller & Gerbing in 1829 and eventually becoming Gerbing & Stephan in 1861, this once significant ceramics company produced some superb Majolica pottery. The battle scene vase in our Antiques collection is a wonderful example bearing Gerbing & Stephan marks used between 1861 and 1900. They show a very clear 'G&St.' mark.
Read More
Antique Marks is a great resource for antique collectors & dealers
Antique collectors, buyers and sellers can easily access a wealth of information, using our main site or using our mobile friendly version of antique marks while you're out and about.
The antique marks website is ideal for any collector, buyer or seller who needs to research pottery marks, porcelain marks or other antique collector essentials.
And for those who want to provide their potential customer with as much information as possible; information that will allow them to make an educated and informed decision.
Whether you're looking for antique pottery marks, porcelain marks, antique china marks or antique makers marks, it's all right here at your fingertips.
The information can be accessed while they are creating their item description and a link to the relevant section can be provided to the potential buyer; just to re-assure your customer that the antique china you are selling is exactly what you say it is.
It is invaluable to the seller who is unsure of an antique china maker or the date of a piece of porcelain or where to research the origins of quality antique pottery.
And; it can also help prevent you selling antiques for low, low prices.
No matter what antiques you buy, sell or collect...
Royal Doulton
or
Royal Worcester figures
, antique pottery vases, antique china, majolica, studio pottery,
art deco
,
art nouveau
,
antique carpets
,
silver
,
rare coins
or any other range of antique items.
Antique marks with its
comprehensive antiques glossary
and fully illustrated
pottery and porcelain marks sections
can help make sure you know what antiques you are buying and sometimes more importantly, what antiques you are selling.
Finally we would like to thank our partner VPNArea for their tech support in keeping Antique-Marks online. If you ever consider using a VPN service to protect your privacy online, you can read the excellent
VPNArea review
here.