John Rose was the power behind Coalport Porcelain
He was born in 1772 and John Rose is the name most commonly referred to with Coalport Porcelain.
Rose began his career as an apprentice to Thomas Turner at the Caughley Porcelain manufactory.
Thomas Turner was a renowned engraver and potter with his own views on ceramics and porcelain manufacture.
As his career in the pottery progressed John Rose befriended and became partners with local businessman Edward Blakeway, a former Mayor of Shrewsbury.
In October 1797, John Rose entered into an agreement to purchase land at Coalport, and appears to have begun producing porcelain there.
In 1799, Rose and Blakeway bought the Caughley pottery from Thomas Turner and in 1780 they set up a second pottery at Jackfield.
They kept the Caughley factory operating until 1814, and during the c1799 to 1814 period large quantities of Caughley porcelain, almost exclusively in the white, was sent for decorating at Coalport.
By 1796, Coalport were producing a good quality hard-paste porcelain.
It was a grey-ish porcelain of poor translucent quality often flawed with black specks or a dull grainy glaze. But, it was stronger and less expensive to produce than the soft-paste porcelain of the 1750 to 1760 period.
It made Coalport porcelain wares superior to those of Thomas Turner's Caughley porcelain and the products were well received by the British public.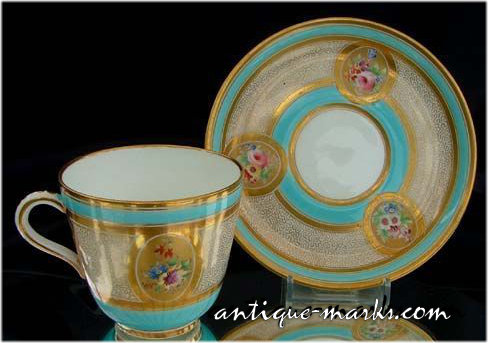 In 1797, Coalport products were popular enough for John Rose to open a London retail warehouse.
From 1798, Coalport introduced a form of bone china.
After 1810, it began producing the good quality porcelain that features the soft white translucency and smooth surface Coalport porcelain is known for today.
In the 1820's John Rose acquired the Swansea and Nantgarw potteries. Buying them to add the pottery equipment to his production setup rather than as going concerns.
Coalport Porcelain Decoration & Patterns
The Coalport pottery decorated its wares with a wide variety of patterns.

From 1797 to 1814, the Coalport-Caughley period, Coalport decoration on Caughley porcelain blanks was mainly painting and printing in underglaze blue, with a small amount of enamelling.
From 1880 to 1810, Caughley porcelain wares were often sold to outside decorators including Thomas Baxter of London and Thomas Pardoe of Bristol.
These, (in the white), blanks include a cabinet plate with six regularly spaced indentations around the rim, samples of which were found during archaeological excavations of the original Caughley porcelain site.
Until the 1820's, Coalport concentrated on simply decorated tableware, although there were Oriental-style designs too, including the Willow pattern and the much imitated Indian Tree Pattern which was first used by Coalport.
During the rein of George IV (1820 to 1830), Coalport decoration became more opulent and more lavishly gilded with splendid dinner, dessert and tea services featuring bright colours and highly burnished gilding.
Chinoiserie scenes, in imitation of the blue painted Chinese export wares, were added to popular dinner services.
Popular Caughley designs were continued and included the Willow pattern and Broseley dragon patterns printed in pure cobalt blue and lavender embellished with gold.
Painted decoration is sparse on everyday table wares and includes simple floral designs in imitation of New Hall porcelain designs.v
Tea wares were decorated in the New Hall style but shapes differ greatly from the New Hall tea wares.
The Coalport 'Japan' patterns, which feature deep under-glazed blue decoration with over-glazed red, green and rich gilt embellishments, were the company's most popular products.
In 1820, a hard clear and highly lustrous lead-free felspar glaze was introduced. It improved quality and enhanced the bright enamel colours used by Coalport.
In 1821, Samuel Walker introduced a maroon ground which became one of the Coalport porcelain trademarks.
During the 1830's the Coalport pottery offered a wider range and ever more elaborate designs.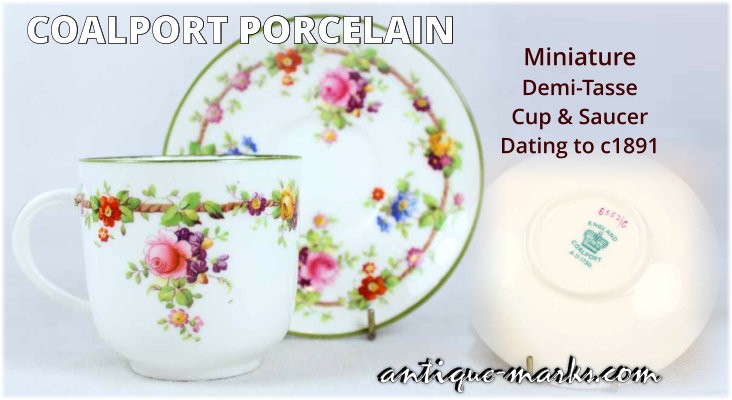 Large quantities of finely modelled flower-encrusted vases, candlesticks, baskets, clock cases and jugs were produced up to 1840.
Imari or Japan style patterns, which are usually associated with the Derby factory, were introduced and Coalport Porcelain actually produced more Japan style patterns than the Derby factory.
A series of wide-mouthed jugs of various sizes, painted with large pink roses or bouquets and inscribed beneath the lip, became a Coalport speciality.
After 1835, Coalport Porcelain becomes more sophisticated with richer grounds and colours.
From the late 1840's Coalport produced a smallish range of skilfully modelled parian statuary.
After 1850, ornate imitations of the finest Sevres porcelain and Chelsea porcelain wares are produced. These often include copies of the original Sevres and Chelsea marks.
In 1851, Coalport was awarded a gold medal at the Great Exhibition for its reproduction of the famous 'Rose Pompadour'. The first English pottery to do so.
A Coalport Porcelain Rose Pompadour Cup & Saucer dating between c1891 and c1919
The decoration on Coalport ornamental vases and cabinet plates produced in the 1890's includes landscape panels contained within jewelled borders and signed by the artist.
The quality and artistry of Coalport cabinet plates and vases can easily hold its own against the better known Royal Worcester or Royal Crown Derby wares of the same period.